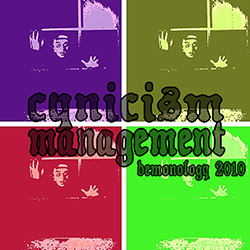 We have just released demonology 2010, a collection of six demos, intended as the first step towards global domination through blatant abuse of the Internets, of course :)
The tracks included in this demo release are by no means the final versions of tracks that are to appear on the upcoming full-length debut album. They are, well, "DEMOS" - work-in-progress versions intended as a preview of what we are trying to do. We decided to release them in order to possibly stir up some interest in this project and gather some feedback while we work on completing the final versions and release the full album, hopefully later this year.
Consequently these tracks are not meant to be downloaded at this time.
The following Cynicism Management pages are now also up and running on the following sites: